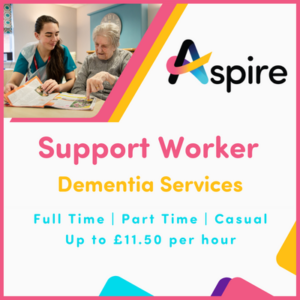 Full Time, Part Time and Casual Hours Available
Up to £11.50 per hour including shift allowance where applicable.
We are looking for enthusiastic Support Workers to join our Dementia Support team. If you are looking for a rewarding, exciting career then this could be the role for you!
We work in a busy and varied environment where no two days are the same. We provide bespoke, personalised care for all of the people we support, helping them to live their lives to the full. As part of a team of support workers you will work with adults who are living with mid to late stages of dementia.
You could find yourself supporting someone to enjoy an afternoon of arts and crafts, take part in light exercise, reminisce about times gone by, or to simply feel comforted and supported in your presence. We always strive to enable the people we support to live their life, their way.
You don't need to have previous experience or qualifications in health and social care. We are looking for people to join our diverse work team and bring their personalities into the workplace. We will provide all the training and support you will need to become an excellent support worker.
Our main focus for this job role is a positive attitude, professionalism, and high values that match our own!
Our support workers are required to work flexibly, with various shift patterns. Our Dementia Services team currently operate Monday – Friday daytime hours, with the option to pick up extra shifts in other services where possible. The responsibilities of this role will include supporting people with personal care needs, as well as helping support them to lead a healthy and fulfilling life.
Aspire currently has several vacancies within our team. If the above applies to you and piques your interest then please get in touch.
Enhanced DBS Disclosure and full covid vaccination record are requirements for this position.
For this role we can offer:
A range of hours, part-time and full time are available.
Casual positions are also available.
£10.27 per hour plus 12% shift allowance payment.
If you wish to apply, please download and complete our application form below and then return to: careers@iamaspire.org.uk
Support Worker Application Form
Support Worker Job Description
Please give an overview of your experience, relevant training, professional development, and relevant transferable skills.