Dementia can have a significant impact in many ways. A person living with dementia may get unsettled or anxious at home and it is important to create a safe space so that they feel comfortable and relaxed. This blog has tips that we think would make your home dementia friendly, the changes you make to your home do not have to be expensive, a few simple adjustments can help maintain the independence of the person living with dementia and support them to live their life, their way.
Labelling – Take notice of the person you support and their routine, notice what they do within the day. Label areas or items you think they may need to use throughout the day. A picture describing what is behind each door may be helpful as this is a much-needed visual aid and may help to relax and calm the person living with dementia and allow them to feel more independent around their own home.
Lighting – To help avoid confusion, open the blinds / curtains in the mornings, it is ideal to keep the lighting bright and natural during the day to ensure the person living with dementia knows that is it daytime. Many studies have shown that natural day light or special lighting systems that simulates natural day light patterns have helped those living with dementia to sleep better at night. In the evenings reduce or dim the light as it naturally would outside.
Noticeboards – A noticeboard is a great place to leave reminders. Encourage the person living with dementia to check the noticeboard a couple times a day, try to make this part of their daily routine. It is important to leave the noticeboard somewhere that is visible. A clear reminder for someone living with dementia can help them relax, especially if they are alone during the day. You could write 'your lunch is in the fridge' or 'I will be home for 4.30' etc.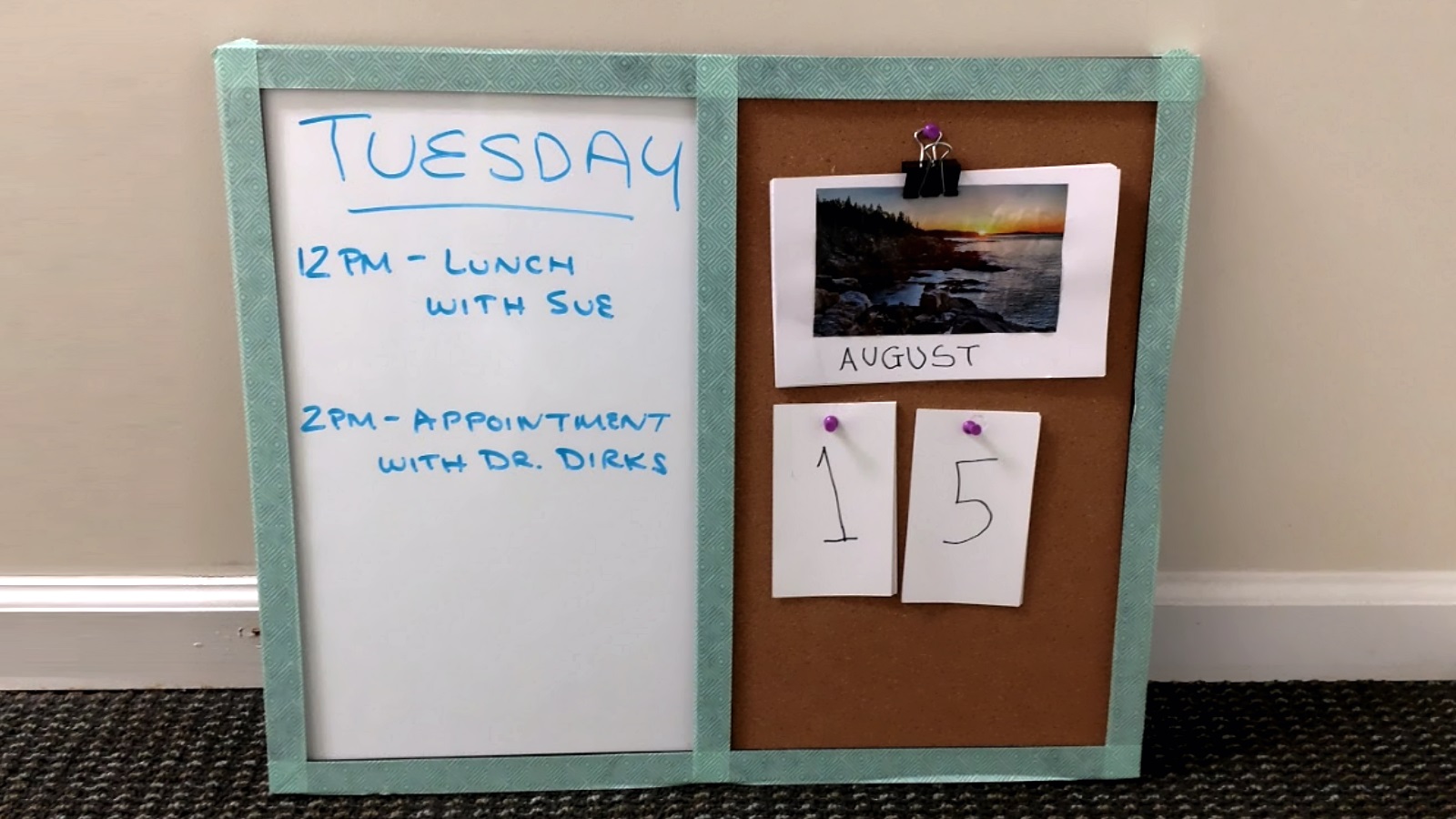 Easy to read clocks – Easy to read clocks are a great way for someone living with dementia to see the time clearly, this will help them to keep track of time. The 2-1 calendar and alarm are a useful calendar and alarm, it is a digital display and clearly states the time, date, a graphic and phrases such as 'It's Monday Morning.'
Safe and clear floors – It is common that people living with dementia are at risk of falling. To prevent a fall, you should remove anything in your home which you think could be a trip hazard such as a rug, other objects, or wires. Different floor colours or textures can be unhelpful for those living with dementia because it can create a barrier. If you have a step in one of your rooms, ensure that it stands out to the person living with dementia and they can take the appropriate step.
Common experiences for people living with dementia:
Shiny floors can appear to look wet or slippery
Patterned carpets can look like they have different objects
Change in colour surfaces a create a barrier
Shadows can look like holes
Take notice of the person living with dementia, the above experiences may not occur however if they do, simple changes to surfaces can make a huge difference.
These are general suggestions that have proven useful. Peoples' experience of dementia is highly individualised depending upon many factors, for example their life experience.  People living with dementia may vary in how they are day to day, so do not be surprised if a suggestion works one day but not the next.
For more information on Dementia Support in Salford please call Humphrey Booth Resource Centre on 0161 607 7100.